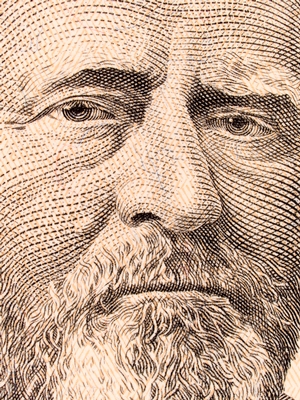 Back in April, I wrote How to Avoid Collection Agencies When Your Clients Owe You Money.  Last week, Ruth wrote in to ask a follow up question that most of us will need to face at one time or another so I decided I would respond to it in a post.  She wrote . . .
Thanks for all your great blog posts and information, Tamara.

I have a young client whose parents neglect to pay often. The co-parents, who are in charge of payment, live in a different town and don't call back or respond to emails. They paid a month late recently and then pre-paid a session, which I thought was going to send us on the right path, but now they are a couple of sessions behind and not responding again.The parent who brings the child to sessions is easily reached and responsive, but not in charge of payments.

I have subsequently cancelled appointments until we can come up with an agreement for payment. I would be willing to keep seeing my client with even just a conversation about payment…but am getting nothing. Am I in the wrong to cancel appointments, or am I letting this get out of hand?

Any advice is appreciated."
This is one of those issues that most of us face during the early years of private practice (or even in agency work). My understanding is that you are not "wrong" to withhold professional services due to lack of payment unless the client is at immediate risk to himself or others.  Having said that, it's important that you check with your jurisdiction's laws and your own professional codes of ethics to make sure.
When I have encountered similar situations in the past, I have found that my own transference has contributed significantly to the problem.  Consider some of the following . . . . Do you feel like you are providing a valuable service to your young client?  Do you believe that your fee is reasonable and fair?  Are you comfortable discussing conflicts related to money with your clients? If your answer to any of these is "no," then you have some work to do on your own issues.
And, there are other things to consider, too.  Does your disclosure statement adequately address payment and non-payment for your professional services?  If not, this may be your "wake-up call" to clean it up.  Consider including not only your fee, but also how you will be paid, how you will handle clients' financial needs, any provisions for reduced fees, when you will be paid, how you will interact with third party payments (including long distance parents as well as managed care), how you will handle outstanding balances, your billing procedures, how you will handle no shows, etc.
If you have not clearly addressed these things in your disclosure statement, now is the time to amend it to include them.  Then, send out your revised policy to each of your clients along with a letter explaining that this policy will go in to effect in the next 30-90 days.  Have clients sign an acknowledgement of receipt, understanding, and intent to comply or be prepared to refer those clients elsewhere.
To address the current issue, I would send a letter by Registered Mail to the co-parents that are responsible for payment (with copies to the custodial parent on behalf of the client) notifying them of your attempts to contact them.
Detail the dates and what attempts were made as well as their non-response.
Express your concern for your client and the importance of establishing fluid communication.  (Perhaps they want to be more involved in treatment?)
Consider whether it is clinically appropriate to share specific risks / concerns related to this break in treatment and future implications for the client.
Reiterate your payment policy and explain that treatment is being withheld until full payment for professional services already rendered.  (Be prepared to detail the services you have provided.)
Consider requiring all future services for this client being pre-paid.
Allowing clients to incur significant balances for your professional services is rarely (if ever) about the client and almost always about our own issues with money and boundaries.  During my early years in mental health, I don't think I would have or did see this as being true.  However, after 20+ years in private practice, I can say without hesitation that this has been true for me and also for my supervisees 100% of the time.
[And, because I continue to hear stories every week from therapists who are
struggling with their own issues and boundaries related to money, I'm considering
hosting a tele-class or group to talk about these matters.  If you would be
interested in joining that discussion group, leave me a comment below letting
me know you would like to attend.  When there's enough interest, I'll put the
finishing touches on it and let you know the cost and details!]