Termination and Unhappy Clients Happen
Last week Lori Nash in Bellingham,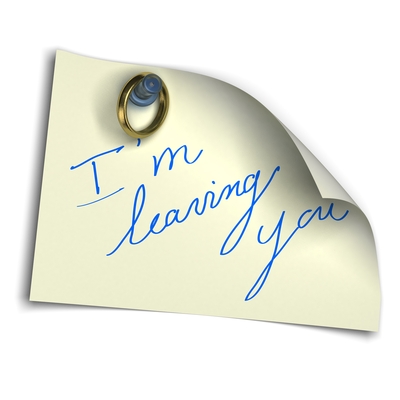 Washington was reading the post titled What Does a Psychotherapist's Termination Letter Include?  In her comments that followed, she shared concerns about the possibility of retribution from a client.  It's not an uncommon problem for a therapist to terminate services with a client and have him / her unhappy with that decision.  However, that's not something most of us had addressed in graduate school, is it?
I wanted to take this conversation into a blog post so that the maximum number of psychotherapists can join in because when it happened to me I was clueless about how to handle it.  Twelve years later, here's what I can tell you that I've learned . . . .
"Good" Reasons for Termination
It can happen for a lot of seemingly good reasons, right?  Your partner / spouse  gets a new job and it means relocating to a new state.  (That was my situation.) Your client has outgrown you and needs a referral to a different professional. You're practice is growing and you need to move into a larger office space across town.  You're making better choices for the health of your business and increasing your fees . . . but that means some of your clients will choose to get their mental health needs met elsewhere.  You're practicing better boundaries and limiting the number of times you are willing to be stood up by a client.
But, just because you believe you have a good reason to terminate your work with your client and you feel that your decision is justifiable, that doesn't mean that your clients are going to necessarily understand and appreciate what is ultimately your choice to make.  In fact, your clients (1) may feel gratitude and want to celebrate the decision to terminate with you, (2) may have old triggers tripped and slip into a deeper depression, (3) may need to grieve the losses involved in this transition, (4) may be scared about what comes next, and (5) may feel betrayed and angry that you are leaving them.  These are just a few of the many ways I've had clients react to termination over the last 30 years.
Minimizing Retribution
When you believe it is clinically appropriate to terminate therapy or have circumstances arise that result in you needing to terminate therapy – especially when your client is fragile, has difficulty maintaining appropriate boundaries, and / or you have concerns about the response that your termination may trigger – here are the things I have learned can help to reduce the likelihood of client retribution.
Seek consultation – before, during, and after termination.  The more opinions you gather from therapists more experienced than you, the better able you will be to make a decision that is good for all.
Document the advice your receive and the thoughts you have including your final position on termination.
Give verbal notice as much in advance as is possible.  It's the kind and courteous thing to do.  It's also the responsible thing to do.
Give written notice after you give verbal notice.  Both your clients and you benefit when you have provided this information in multiple formats. In doing so, you are giving clients an opportunity to take in the information at their own pace and the ability to review the information as needed.
Have an attorney review your written notice before you send it to your client – especially if you believe client retribution or stalking is a possibility. This allows you not only to inform another professional about your concern but also reduces your own risk by providing the necessary information in the right way.
Review progress made during therapy with the client.  This is basic clinical care.
Identify and discuss the remaining challenges that the client may encounter so that s/he is aware of your own concerns and that you are aware of his / hers.
Create a discharge and aftercare plan that your client can pursue after working with you.  Make sure you are addressing any needs for further counseling
Offer referrals to other professionals and community resources that can support client as well as any books / literature to support client's goals.
Discuss maintenance of and access to your clinical records after termination.  Each state / licensing board stipulates how long you need to keep these records.
Establish a termination date with your client.

Send a termination letter.  Here's what I recommend you include in that letter.
When in doubt about your own safety and for your own peace of mind, call your liability insurance company and your local mental health attorney to get additional advice.
While your job is to be of service to others, it should never be at your own expense.
I'm always interested in hearing other therapists' stories about clients who struggle with termination.  Wondering if you have a story of retribution or something else to add to this discussion . . . .