Emily Miranda, MSW is a Licensed Clinical Social Worker in Utah who was kind enough to pass on the following information about registering with the Council for Affordable Quality Healthcare (CAQH).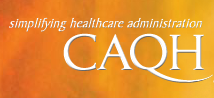 The CAQH website states this is a
free service to physicians and other healthcare providers that simplifies and improves the data collection process" for those professionals who choose to file insurance for their clients or choose to become preferred providers for managed care."
Miranda says,
It is an online service that collects provider credentialing data so that you can more easily provide it to other insurance companies.  Just being registered with CAQH does not mean you are participating with all of the organizations they have contracts with.  However, it does allow you to release your information to participating organizations.

To get a CAQH provider number, you must start credentialing with a particular healthcare organization; that organization will request your participation in the CAQH Universal Provider DataSource. [Miranda started with Aetna.]
A list of participating organizations can be found at CAQH's website.

After you start the credentialing process with a particular organization, you will receive a letter in the mail with your CAQH provider ID number. 

Do not lose this number.

You will need it to log on and submit your credentialing information on the CAQH website.

Follow the instructions and complete all the information.  You do not have to do it all in one sitting, but to save the information you've completed and come back to finish later, you must hit the button at the bottom of the page that says "next".  That will save the information you entered on that particular page, and all the pages prior to it.

After you enter all the information, you need to run an "audit" on your file to make sure that all the information is complete and correct.  The website instructs you to do this.
After that you "attest" all your information (you will also be instructed to do this by the website).  It will give you a message that your file is complete.  You are finished!

Be sure to save your username and password somewhere safe; you will need it to log on to the site in the future and update your information."
Emily Miranda, MSW, LCSW, thanks so much for sharing this with us!