For those of you who have been with me a while, you already know about my web guru and friend, Beth Hayden of Blogging with Beth fame. 
I was trying to figure out how to add a tiny little picture of me (and you) to our comments so . . . of course, I called Beth. 
She made this so simple that I invited her to write a guest post to share with all of you and she graciously agreed to do so. 
Check this out!
(If you are interested in writing a guest post, check out the guidelines here.)
_______________

A Guest Post by Beth Hayden
Are you regularly commenting on other people's blogs?
You can use comments to encourage your favorite bloggers, to thank them, to show support, to give an example, or to contribute to the discussion in a myriad of ways.
If you're commenting thoughtfully – and consistently adding your blog URL to the "Website" field in the comment form – you are hopefully seeing some traffic flowing back to your site as a result of your comments.
It's a great (and FREE) way of picking up some extra traffic.
But there's a way to make your comments even MORE powerful and making it even MORE likely that people will click through to your blog and sign up for your mailing list or become regular readers.
Perhaps you've been noticing recently that when some people comment on a blog, a little picture of the person appears next to her name.
Those little pictures look like this: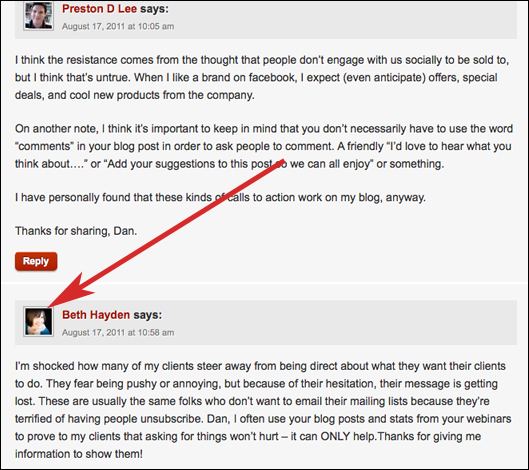 When you use that little image for your comments, it makes it more likely that people will click through to your blog from your remark.
A picture makes you more recognizable, more authentic, and a thousand times more relate-able than your name alone.
And that small image also has another HUGE benefit – it helps the host blogger get to know you.
I recently read an interview with Sonia Simone of Copyblogger in which she highly recommends using these little images.
She said if she can put a name with a face when she sees your comment, it makes you much more memorable.
And being more memorable makes it more likely that she'll be willing to open your email when you write to her to submit a guest post for publication on Copyblogger.
If that's true for Sonia, it's true for tons of tons of other host bloggers, too.
That little image – that teeny little you – can make the difference between your emails getting OPENED and your emails getting IGNORED.
That little image we've been talking about is called a Gravatar. And they're really easy to set up and use.
Go to Gravatar.com to set up your account.
It takes just a few minutes.
Tips:
Make sure to use the email address that you will be using most often when you comment.
Upload a great photo. This picture is going to represent you all over the web, so make sure it's a good one – not one that is fuzzy, unprofessional, or otherwise unusable.
You can upload more than one photo, but you'll have to choose one to have as your primary photo.
Remember your username and password so you can go back and change your pic if you want to.
Once you create your Gravatar, every time you use your email address to comment on a site that uses Gravatars, you'll see your photo automatically appear if that particular blog has Gravatars activated on their site.
You don't need to do anything special or upload that image again.
Just enter your email address in the comment box field, and Gravatar.com will do the work for you.
Create your own "little teeny you" at Gravatar.com today.
It takes five minutes and will start paying off as soon as you post your next comment!
About the Author: Beth Hayden helps business owners make more money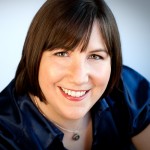 by helping them create fabulous websites, blogs, and social media campaigns. Get her best tips for improving your blog by downloading her free report, From Blah to Hurrah: 25 Ways to Make Your Blog Bigger, Better and More Profitable.