Over the last 5 years, many of you have expressed an interest in publishing a simple, attractive, low-cost e-book.
Over the last 18 months, I've been actively looking for someone to guest post on this topic.
When I saw Kate Daigle's e-book come out last year, I knew that she was the one I wanted to write this guest post.
When you take the time to download her book, you'll see why.
The formatting is beautifully and professionally done – all by Kate herself!
I knew that if she would agree to write this post, she would generously share just how she did it and show you how you can, too!
__________________
A Guest Post by Kate Daigle, MA, NCC, LPC
What is the message you are hoping to send to your clients or potential clients?
What do you wish for them to know?
What are the most effective, compelling, and motivating methods to spread your message to these clients?
What has worked before?
What hasn't?
As therapists, we know that our jobs reach much further than the comfy armchair in our office where we spend many hours each day.
We have a duty – to be advocates, to be sharers of information and resources, and to provide support in as many ways as we can.
As therapists in private practice, we also want to succeed and thrive financially so that we can continue to do the good work that we do.
One of the ways to spread your resources and support and to attract more clients and make money is by writing your own e-book.
From a marketing standpoint as well as from a clinical standpoint, there are two avenues to pursue with this.
One is to write an e-book, publish it, and sell it online.
I have read several amazing e-books that did just this and what I really liked about them were how accessible and portable they were.
I could download them to my computer and pull them up at any time for referencing (example).
This is an excellent tactic for creating a second (or multiple) income stream(s).
The form of e-book that I am here to focus on today is what I call the "Free E-Book to Hook Your Ideal Client."
You may find an example of my e-book here as one potential way to utilize this marketing approach.
Maybe you love to write as much as I do and yet are intimidated by the idea of writing a book – how do you even start going about that?!
Writing a free mini e-book can be a great launching point to delve into the dream book you've always yearned to author.
It's the best of both worlds – you can get in some good practice at nurturing your inner writer and you can attract new clients and spread your message.
I had the idea of doing this for a long time, and last year was nurtured into actually doing it through work I did with Becky DeGrossa of CounselingWise.
Five Simple Steps To Writing Your Own Free E-Book and Hooking Your Ideal Client
Step 1 – Focus on a specific topic.
What are you passionate about?
Why do you do the work you do?
Who do you want to help and what types of problems do you want to help with?
Know your ideal client, know your niche, know your expertise, and know how you can help your client alleviate their pain.
Step 2 – Create a title.
Create a title that speaks directly to your ideal client's greatest problem and convince them that you can help them with that problem in their own words.
For example, if you work with couples who struggle with relationship and intimacy issues, your title could be something like: "How Can I Feel More Connected to My Husband? Ten Tips to Foster Intimacy in Your Partnership."
By directly speaking to your ideal client's need, fear, or want in your title, and then following it up with some ideas for how to heal that fear or meet that need, you have hooked that client.
By offering a free e-book, you also can ask upon download of that book that the client allows you to add their email address to your database.
You then are able to keep in touch with this client, and while they may not contact you right away after reading your book, you can send them new blog posts periodically.
When they are ready to seek counseling they will already know you, your style, your expertise, and have confidence that you can help them with their problem.
And your email address will be at the tip of their fingers.
Step 3 – Write your e-book!
It does not have to be super lengthy or super clinical.
It can be anywhere from 7-20 pages, but it does need to be fairly substantial so that the client feels it is something they want to read and invest in.
Fill the book with tips and ideas while offering them hope that they can solve their problem.
Don't forget to be personable and be yourself!
You are your own greatest asset and if the client feels they get to know you through your writing, they will more likely feel like they can trust you and you "get it" and will dial your number when they are in need.
Also, add a call-to-action at the end of the book.
While you have offered them tips to help with their problem, they may still desire professional support and that is where you come in.
Let them know you are available and can help them find lasting change that they are desiring.
Step 4 – Publish your e-book.
Design a cover and pages for it that looks professional and as much like an actual book as possible.
If design is your creative passion and talent, it is fairly simple to do this yourself.
I used Apple's page layout/word processing program, Pages.
Word would work as well, it's just a little trickier to get items positioned in specific places on the page.
Pages (and any Mac program) can publish directly to PDF, but on Windows you'll need Adobe Acrobat Pro to create a PDF.
I made the cover in Photoshop, but you could use something like PowerPoint or even Word for something basic like that.
Or you can hire a web-based designer who can do it for you.
Publish the book to look professional, pleasing to the eye, and inspiring.
Step 5 –  Add the e-book to your website.
Place it on your homepage where it is one of the first things to see.
You can create several e-books, if you desire, to be placed on webpages whose topics speak to the specific content or issue of that page.
Connect the book via a widget such as MailPoet which will capture the email addresses and contact info of the clients as soon as they download the book.
Save their emails into a database and send out your newsletter monthly or bi-weekly with new blog posts or updates so you remain close to their mind.
And there you have it! Now you have created a unique, personable, professional e-book that shows your expertise in your area and also attracts clients who have faith that you can help them.
It also can be a launching point to more e-books or print books to come!
Have you written an e-book?
Have you wanted to but haven't done it yet?
What has gotten in your way?
 _______________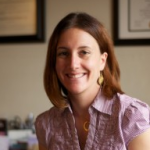 About the author: Kate Daigle, MA, NCC, LPC is a licensed counselor in Denver, Colorado who is passionate about helping clients heal their relationships with food, their bodies, and themselves. She is a public speaker and regularly facilitates workshops and groups related to body image and eating disorders in addition to providing supervision and counseling. You may learn more about her at www.katedaiglecounseling.com.