True confession . . . out of the many identities that each one of us wears, one of the ones I struggle most with is that of physical disabilities.  Age, sexual orientation, gender, race, ethnicity, religion, . . . I'm sure I still have stretching and growing to do there, too.  But, the one that really does make my stomach churn and tie up my tongue the most is that of physical disability.  It is my own unearned privileges related to physical health and abilities that gets in my way more often than not and prevents me from seeing (or even thinking about) power differences related to physical ability.

So it is with this knowledge of this particular pair of blinders that I have been looking for those of you in our field who might be comfortable enough to educate me and the rest of us need to learn to "see" differently and understand the many faces and ways that physical disabilities impact our work as mental health providers.
This is one conversation that is long overdue here on Private Practice from the Inside Out and in the broader community, too.  About 2 years ago Linda Lochridge Hoenigsberg, LPC, started showing up here in our online community sharing bits and pieces of her own struggles in service to support others therapists who are dealing with their own losses, challenges, and triumphs. When she mentioned her own physical challenges, I invited her to kick off this conversation and I am delighted that she agreed to do so.  Please join me today in welcoming Linda Lochridge Hoenigsberg, LPC.
   (If you are interested in writing a guest post, check out the guidelines here.)
  ______________________
  A Guest Post by Linda Lochridge Hoenigsberg, LPC
"I'm so tired near the end of the day that I wonder if I'm cheating my clients." My friend and fellow therapist Deborah took another sip of her latte.
"I understand," another friend, Teresa responded. "I had to scale back last month. I was feeling exhausted and burned out."
Three of us were sitting across from each other at our favorite breakfast spot.
This was a time for us to do case consultation and support each other in our work and personal lives.
The topic of the morning was how we felt at the end of the day.
Each of us, in one form or another, had chronic illness or pain.
Linda's Story
My own story began almost fifteen-years-ago after a fall down a flight of stairs left me with a broken neck.
Once recovered, I decided it was time to go back to school and fulfill a dream I had carried in my heart since I was in my twenties.
I wanted to become a psychotherapist! I was fifty-one years old.
After four years of hard work and babying my neck and upper back, I graduated with a B.A. in Psychology.
Grad school here I come!
Only there was one slight roadblock . . . .
An Impossible Recovery
The month before I was to start my program, I was diagnosed with what two neurosurgeons called an "inoperable" brain tumor.
Thankfully I found a skilled brain surgeon in Los Angeles, California, and on October 16, 2006 I made it through a very risky six-hour brain surgery.
I woke up with permanent deafness in my left ear, my pupil in my left eye almost touched my nose, and I saw double of everything.
I couldn't walk and I had terrible tinnitus.
After four days in I.C.U., my husband and I flew home for a long recovery – a very long three-year recovery.
And, Then It Was Time to Get Busy
But here I was, lying in bed all day long. What's a girl to do?
I hatched a plan, of course!
I would get my masters degree online while lying in bed!
Soon textbooks arrived and with a newly purchased laptop I got to work.
While wearing a patch over one eye I was able to hold the textbooks about three inches away from my face and read.
Recovery
It took me almost as long to recover from brain surgery as it did to graduate with a CACREP accredited degree in Mental Health Counseling.
As I progressed through my program, I regained much of my sight, was able to walk again without help, and with each passing year my balance and fatigue level improved.
After graduation I worked for two years at an agency servicing abused and neglected children and adolescents and earning my 3000 hours for licensing.
It was extremely difficult.
I pushed myself beyond my limits at times. But there was something inside me that wouldn't give up.
The Challenge of Living with Disabilities
I am now in private practice, but I live with disabilities and challenges.
I developed several autoimmune system diseases due to trauma to the nervous system in the aftermath of brain surgery.
Fatigue is always a problem.
I have gastroparesis flare-ups, a condition that is caused from paralysis of the vagus nerve that runs from my brain to my stomach.
I break out in canker sores in my mouth and throat if I let myself get too stressed or tired.
I have sleep apnea and have to wear a CPAP mask at night.
It's during these times I feel like someone really pulled the plug.
And chronic pain from the old neck injury is always something to deal with.
Invisible Disabilities
One of the hardest things about having chronic illness is that most of the time, I don't look sick or in pain at all.
I enjoy my work and I am able to engage with people in and outside of my office in a way that belies my condition.
But it leaves me with a feeling that people do not understand when I have to say no to extra activities.
As I try to explain, I always wonder if it sounds like an excuse.
After all, maybe a new friend has never heard me complain before.
Or, when I hang my handicap placard on my rear view mirror and walk into a store, I wonder if people think I am using my mother's card in order to get a close parking space.
How could they know that I only have so many steps a day before I can no longer walk, or that I cannot carry a half gallon of milk back to my car without setting my neck pain in motion?
In fact, a few weeks ago my husband and I were scolded in a movie store for "using the system."
I simply explained and told him I understood how he could come to that conclusion and he apologized (profusely).
Taking Personal Responsibility
But there are things I do to take control of my life in order to make sure I can do the work I love for as long as I want to.
I have become very good at pacing myself and setting boundaries.
I work three days a week only . . . and I am off early on Wednesdays.
I still manage to see 18-20 clients a week including leading two DBT Skills Groups.
This gives me four solid days to recover and have fun.
If I am really overly fatigued, I take naps during the weekends.
I eat well, juice, and drinking smoothies in the morning.
I have gotten over much of my fatigue by taking vitamins daily.
The Need for Self Care
In the book, You Don't Look Sick! Living Well with Invisible Chronic Illness, Dr. Steven Overman has some helpful advice. This is his personal list:
Be grateful, especially for family; create ways to be together and express my love.
Laugh more, especially at myself.
Give my gifts while pursuing my dreams.
Ask more questions; every person is my teacher.
Honor those whose shoulders I stand on; create daily reminders and tell more stories.
Pursue spiritual growth return to my Quaker roots with Richard Foster's Celebration of Discipline.
Cook more for others; then spend more time at the kitchen table.
Push the limits, just some of the time.
Remember always, what is –IS!
I especially love the last two.
It's a Balancing Act
I push my limit when I am willing to go through the pain and tiredness for the joy doing something will bring me.
And accepting my limitations and learning to work through them has given me the chance to have a career I used to only dream about.
I also accept that others may not understand what I am dealing with, and give them the grace I desire for myself.
What about you? Do you face chronic pain or illness and wonder how you will make it through the day? Do you have any hints or tips for the rest of us? Do you have any questions for me? Share in the comments below. I will checking in often.
____________________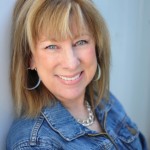 About the Author:  Linda Lochridge Hoenigsberg is an author, licensed therapist, and certified in Dialectical Behavior Therapy.  She lives in the Rocky Mountains of Montana with her husband Tom and their Goldendoodle Emma.

SaveSave