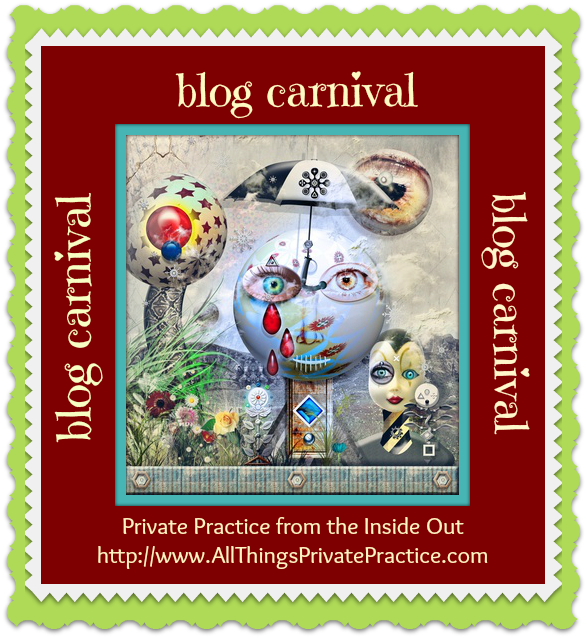 Welcome to the inaugural Private Practice from the Inside Out Blog Carnival!  Thanks so much to all of the bloggers who submitted articles for this first blog carnival! This is going to be so fun!!!!
Our theme for this blog carnival is Creative Responses in Building a Private Practice. I decided on this theme after working with several therapists who were fearful of even thinking of their practices as anything other than "traditional" and predictable.  The more I asked them to think about out-of-the-box and unique concepts for their work, the more they dug in with their heels.  And, yes, if you are wondering if I'm talking about you, then assume that I am!
So . . . I'm hosting this first blog carnival hoping that these five bloggers below can help nudge and stretch you guys that are stuck in that same fear-based rut . . . to do something different to grow your practice!  Here's our inaugural Carnival Bloggers . . . .
* Editor's Choice  – Giora Carmi, ATR-BC, BCIM, BCPC credits one of his clients in spawning his own decision-making process and creative solution to working with clients' financial needs in Pricing Policy.  He says
I told her what to expect. I heard from her how she felt about her life now, how she trusted me as a result of her former therapist's recommendation, and how she now felt she could trust me as a result of our conversation. But she did not make enough money to pay my price."
Giora's post is Editor's Choice as the most creative response I've seen yet to addressing clients' and therapists' financial needs in a mutually compassionate and thoughtful way.  Giora blogs at Intuitive Flow (.org).
* Kat Mindenhall, LCSW is writing today on Why You Should Reinvent the Wheel.
When my son was born I decided to use his first year to "build" my practice infrastructure. I wasn't ready to accept clients, so I spent many nights cradling my infant, indulging my creative side, and building some basic graphic design and WordPress skills. . . .These hours also gave me time to reflect on who I was as a therapist, and get excited about this business identity taking shape . . . ."
I love her wisdom in taking time for incubating while building her practice!  Kat blogs at A Peaceful Life's Blog.
* In 6 Creative Comebacks to Combat Your Inner Critic, Anne Barker, LIMHP, LCSW invites us to step away from
immobilizing self-criticism, and instead belly up to this bar of creative confidence-giving comebacks."
In doing so, she provides a clever and creative cheat sheet to move those self-limiting beliefs right out of your head so that you can attract the clients you were meant to work with! Anne blogs at Out of My Mind.
* Nina Danhorn, MS, NCC focuses on Self Care for Healing Professionals as she urges mental health professionals to 
Listen to your intuition, unleash your creativity and let it flow through you filling you and the world with love."

Nina's post underscores what we all know to be true . . . . If we are not taking care of ourselves, we are not taking care of our clients either.  Nina blogs at Laska Counseling.
* And, finally, in Nourishing Growth and Giving Breath to My Hungry Private Practice, Kate Daigle, MA, LPC, NCC suggests the need for both a reflective and reflexive response to the needs of a growing practice when she says

At times, the work involved in this journey can feel exhausting and overwhelming and might dry up our internal resources.  When this occurs, I try to tune into what my practice is asking for."
Kate knows that a private practice is an animal that requires care and feeding.  Kate blogs at Kate Daigle Counseling.
______________________
That's it, folks, for our Blog Carnival #1 at Private Practice from the Inside Out!  It didn't happen without a few kinks along the way.  We didn't pull it off perfectly but . . . I'm hoping that you weren't troubled too much with the imperfections and enjoyed meeting and reading the thoughts of some of your colleagues. 
Take some time to check out the carnival bloggers above.  Drop in to say "hello" and let them know that you found out about them through Private Practice from the Inside Out.  Let them know that you appreciate their blogging, offer your own thoughts, expand the conversations. 
And, then, let me know if you like the idea of hearing from your colleagues in the form of theme-specific blog carnvials.  I'm hoping that even more of you will be submitting posts to be included in future blog carnivals. And, if your submission didn't make it in this one, please know that there will be others and you are always welcome to enter again! 
In the mean time, I hope you are entertaining your own ideas to up the creativity in responding to building your own fabulous and busy private practice!
SaveSave