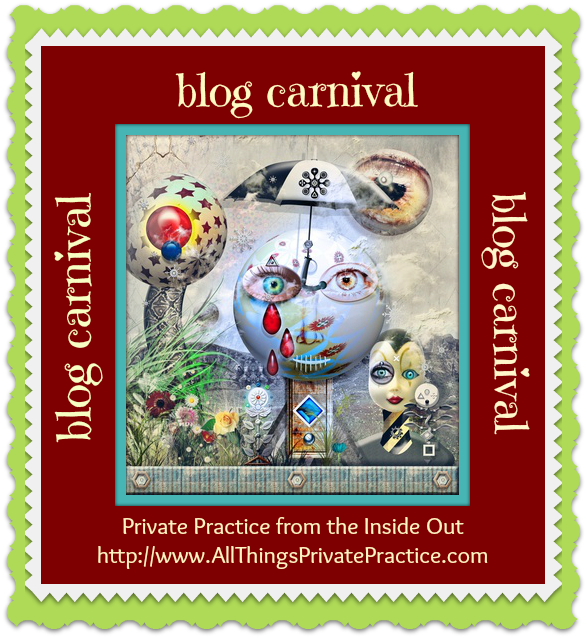 Welcome to the ever-so-often Blog Carnival here at Private Practice from the Inside Out!
Thanks so much to all of the bloggers who submitted articles for this blog carnival!
The entries this time were AMAZING!
I've pulled out the best of the best entries today to share with you guys.
It's my version of sharing a feast with you all!
(OK – True confession  – I almost wrote "ya'll" . . . but I didn't.)
It's just that I'm so excited to introduce you to some bloggers who are new and to some others who are already familiar bloggers in our community here.
Our theme for this blog carnival is Top 10's in Private Practice.
That's because I know an awful lot of you are, like me, list writers.

Lists of websites to check out, books to read, things to do, questions to ask, gifts to buy or make, and the lists go on and on . . . .
Here'a a peek at what's in store for you today . . . .
. . . how this population may already fall within your niche."
Rose's post is Editor's Choice for offering sensible advice that each of us should consider and implement in the spirit of social justice and accessibility for all.  Rose blogs at RPS Blog.
. . . consider recording a spoken version of your best blog posts and upload them to SoundCloud. You can then embed the audio in the blog post so your reader can choose to read or listen."
With Clinton's generous list, every therapist here should find at least one or two new ways to repurpose, recycle, or reuse content that you've already developed.  You can find Clinton's blog at Australia Counselling.
Sometimes the biggest obstacle to helping your private practice grow is you."
She then offers 10 ways to help you get out of your own way to grow your private practice.  You can find Vanessa's blog here.
If a human being is not directly involved in helping you improve your search engine rankings, then all the automated search engine services in the world are well nigh useless.  They definitely aren't worth $60 / month."
Touching on myths, scattered or non-existent strategies, and Yoda, he underscores that an online presence is necessary but not a cure-all for a practice that is limping along.  You can find Roy's blog at Person-Centered Tech.
Starting, maintaining, and growing a private practice is hard work.  There's always something to do, change, buy, worry about, stress about, etc."
She then continues blogging about the things that fuel her own passion for doing clinical work and offers suggestions to help you find your way forward in private practice. She's blogging at Elizabeth Peixoto – Child Therapist.
. . . All therapists can and will encounter LGBTQ clients over their course of their careers."
With that in mind, Jeremy encourages self-reflection and conscious choices for ethical therapists in today's post.  You can find him blogging at Jeremy D. Schwartz, LCSW.
Clients don't always know how often they need to be seen, they need [your] direction."
Covering everything from collaboration to boundaries and building trust, Camille's post offers personal advice that both seasoned and new therapists alike can learn from. Camille blogs at The Counselor Entrepreneur.
_____________________
Take your time to checkout each of these blog posts and let these bloggers know that you appreciate their time and effort to share with you their own special top 10 lists in private practice.
Then drop back in here and let me know if you enjoy an ever-so-often Blog Carnival here.
And, of course, feel free to leave your own top 10 list in private practice below!