Last year I was hanging out on LinkedIn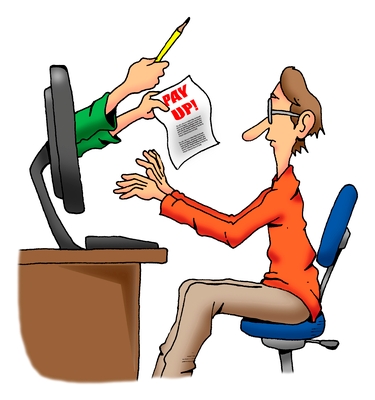 when I noticed a therapist had started a thread of discussion on using collections agencies to recover money owed by a client.  The therapist was asking for other mental health professionals' experiences and opinions.
My colleague and e-friend, Jay Ostrowski, MA, LPC, LPCS, NCC, DCC wrote such a thoughtful and thorough response that I asked for his permission to share it with you.  Here is what he said . . . .
I did try that a while back. It was not a great experience. If you are going to use an agency, you should put something to that effect in your consent forms.

Collections is difficult in therapy. Having worked with hundreds of therapists, I often joke that therapists are "allergic" to money. We are comfortable asking clients to do all sorts of things – except pay their bill. I've gotten good at it, but I still feel weird.

I have a few preventative medicine ideas and a collection idea for you.
1. Consider asking for payment at the beginning of the session. If there is an issue it can be discussed in treatment and the treatment plan can be adjusted to fit their financial reality.

2. If they can't afford you, transfer them to financially appropriate care as soon as possible. This is painful, but it is the right thing.

3. Never let balances get big. Just like child behavior problems, if you treat them while they are small, they never get big.

4. Consider asking for a credit card routinely and set up automatic payments for services. Write this out in the initial paperwork and get it signed. This will do wonders for your practice flow (i.e. staying on time) and your cash flow. I have more thoughts if you are interested.

Collections: More important than the money is the relationship with the client and the reputation that this person will share about you with others. Sometimes it is fear of breaking the relationship that keeps us from collecting. However, when a client's bill grows to a certain point, they are going to cease coming to therapy anyway.

The longer the balance is on your books, the less likely you are to collect the money. The client is most motivated to pay when they are interested in continuing therapy and least likely when the relationship has grown cold and they feel guilty over the debt.

The solution: This will sound strange at first, but what you need to do is put your receivables "on sale." No kidding. For those who already have a big balance with you over 60 days, call them up and offer to reduce the amount by X percent if they can pay off the balance today with a credit card.

You'll have to fight off that inner sense of justice that reminds you what you went through to earn that money and thoughts of others who didn't get a discount. Frankly, business isn't fair and you are not likely to get any money from these clients if they are not given a discount.

The second alternative is to put the client on a small monthly payment plan where you charge their credit card until it is paid off. This too, will likely need some discount arrangement. However, collecting less of the bill is better than none.

If you approach the client with a few solutions, you may be able to collect the bill. You may also find that they re-engage in therapy or at least say nice things about you. In the end, you may have to write down some of these debts as bad debts. That is the fuel that will help you create and enforce new financial policy. It happens to everyone in private practice.

Training yourself in collections is difficult. But as one of my mentors told me -"No margin, no mission." We have to collect and make a profit in order to keep on helping people in the long run.

I'm sure there are other tactics out there. These are just the ones that worked for me.

I hope this helps,

Jay"
I couldn't have put it any better myself, Jay!  Thanks for letting me share your experiences and your wisdom with my online community here at Private Practice from the Inside Out!
And, if you guys are on LinkedIn and would like to see the many other therapists who chimed in with opinions, you can find them right here!